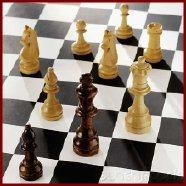 Sponsor:
Lyn Bush
lyn.bush@bcsemail.org
Chess Club Program
Whether you know the queen's gambit or have just figured out what a pawn is, the VSMS Chess Club has a place for you. Life Master and outstanding instructor, Neal Harris, will return as instructor to sharpen our skills and coach us to victory. (But don't let that scare you off if you've never played before.) Bring your interest and your best attitude and watch what Mr. Harris and the VSMS Chess Team can do for you!
Chess club is every Thursday right after school (3:00) in Room 615. Parents should pick their students up at 4:15pm. Club fees are $80 per semester.